Traktorfabrik, Vienna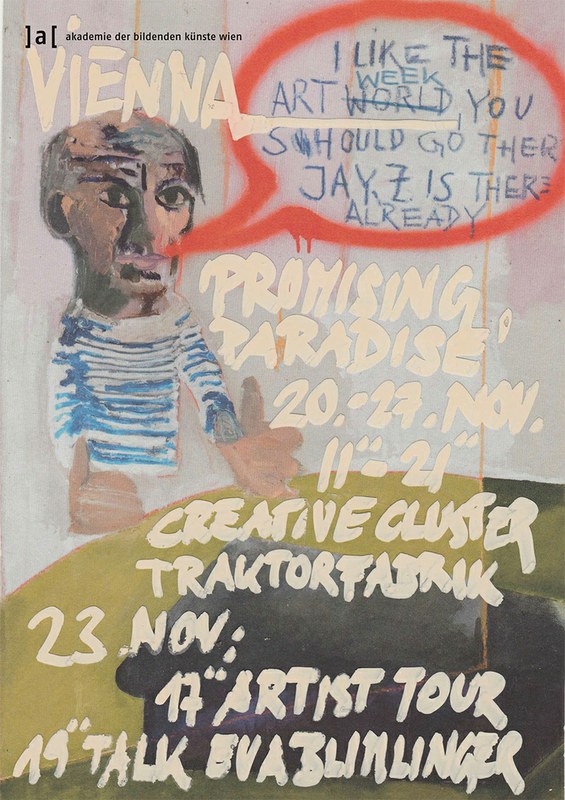 Flyer: Micha Wille
Nov., 20. - 27. 2018
11 am - 9 pm
Studiobuilding Academy of fine arts Vienna
Saturday, November 24th 2018
4 pm – 7 pm
The Vienna Academy of Fine Arts' sponsorship scheme for its emerging artists
The first scholarship holders of the sponsorship scheme for emerging artists introduce themselves: Iris Blauensteiner, Michael Simku, Lukas Hochrieder, Andrej Polukord, Veronika Eberhart, Nora
Jacobs, Terese Kasalicky, Steffi Parlow, and Daniela Zeilinger.
ArtStart
ArtStart presentation ArtWeek
Atelierhaus der Akademie der bildenden Künste Vienna
Studio Building of the Academy of Fine Arts Vienna / Multi-Purpose Space
Lehargasse / 8, 1060  Vienna
CAVE, Detroit (MI), USA
30th August 2018, 6 – 7:30 pm
Eli K. Gold in conversation with the artist Daniela Zeilinger (Vienna/Austria) about her work.
Daniela Zeilinger is currently visiting artist at CAVE, Detroit. She works at the interface of different artistic disciplines, especially painting and photography. Her images – large-format analogue photographs – are created using a variety of media in a multi-layered process of transformation and translation. Her work questions the ontology of images in reference to a real and/or virtual image space. In the confrontation of photographic construction with qualities attributed to painting – e.g., gesture, traces of physicality, haptic – lies an intermediate area that is neither clearly attributable to photography nor to painting.
www.elikabir.com
www.instagram.com/cavedetroit
www.cavedetroit.com
With kind support of The Arts and Culture Division of the Austrian Federal Chancellery.
CAVE
The Russell Industrial Center
1604 Clay St., Detroit, MI 48211, USA